22 Top PitBull Blogs to Follow in 2023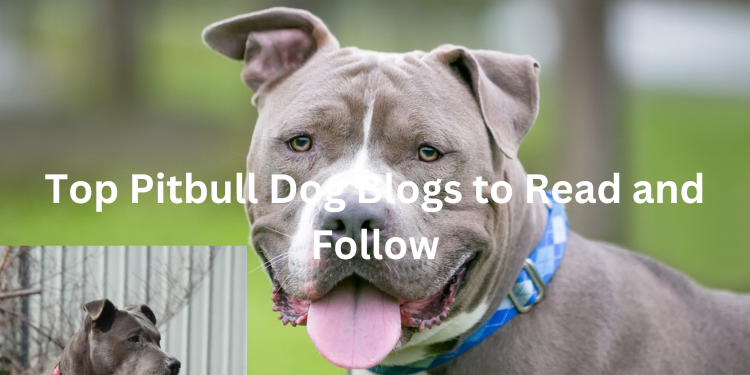 Are you a lover of pitbull or you are interested in learning more about this great breed?
Then look no further as I have curated a list of the top pitbull blog to read.
Can't find your favorite blog? Email me and I will review and add it to the list.

You may also be interested in our curated list of pitbull and dog resources for pet owners. Remember to check it out and bookmark the list.
Now to our list.
10 Top Pitbull Blogs to Read
1: Your Pitbull and You
Your Pitbull and You! We provide information, How-To, and product reviews for the 5 types of Pitbulls.
Pit Bull Terrier, American Staffordshire Terrie, American Bully, Staffordshire Bull Terrier, American Bulldog.
You Pitbull and You are here to help pet parents find the two things they most need in their pet-centric lives: expert advice and heartwarming pet news. Because we understand that being a pet parent entails more than just caring for a pet—it also entails developing a fulfilling, long-term relationship with your four-legged family members.
Website: https://yourpitbullandyou.org/
Post We Love:
2: Bully Max
Hi. I'm Matthew Kinneman, CEO and founder of Bully Max.
I've always loved dogs. And I've been working with them for most of my life—starting 20 years ago when I trained police dogs.
Police dogs undergo a lengthy training process that includes obedience training, endurance exercises, agility drills, and training in specialty topics (like detecting narcotics or explosives).
Think of it like military basic training, only for dogs.
As you might imagine, dogs need plenty of protein, calories, vitamins, and minerals to keep up with this rigorous program. Of course I wanted to give my dogs the best food to help them excel at their training…but I ran into a big problem:
Website: https://bullymax.com/blog/
Post We Love:
3: Love A Bull
LOVE-A-BULL was organized to educate and advocate on behalf of the American Pit Bull Terrier, the American Staffordshire Terrier, and the Staffordshire Bull Terrier (all breeds commonly referred to as "pit bulls") and pit bull mixes. The message we try to spread is that they are dogs, just like any other dog, they just happened to be called pit bulls.
Our mission is to promote responsible guardianship and improve the image and lives of pit bull-type dogs through community support, education, advocacy, and rescue. In 2020, we saved a record 200 pit bull-type dogs' lives — more than quadruple the amount as in the previous year.
Website: http://love-a-bull.org/
Post We Love:
4: Standup For Pits
The Stand Up For Pits Foundation is a 501c3 non-profit dedicated to saving lives and ending the abuse and discrimination of Pit Bull "type" dogs (Pibbles) through live events, funds, education and advocacy. We don't limit the way we advocate or save lives. We believe in new ways, new thinking and new change, and are committed to empowering others to do the same until abuse and discrimination against our beautiful Pit Bull type dogs ends.
The Stand Up For Pits Foundation supports Pit Bull "type" dog rescues around the country by raising funds, providing publicity opportunities and Pibble adoptions at the Stand Up For Pits live events (to read just some of the Foundation success stories go to www.standupforpits.us/sufp-success-stories).
The Foundation donates to and supports educational programs and front line rescue efforts. We advocate, educate and save lives and we will continue to focus our efforts to end dog fighting, abuse and discrimination.
Website: https://standupforpits.us/
Post We Love:
5: Pitbull Lovers
Our goal is to help the general public learn more about the breed and to help you find high-quality information. The site is dedicated to educating pit bull lovers about the pitbull breeds and as stated, you won't find information about pitpulls for sale, pitbull fighting information and other negative media hype about the pitbull.
Website: https://www.pitbulllovers.com/
Post We Love:
6: My Pitbull Is Family
My Pit Bull is Family was founded in 2011 by a landlord in Minneapolis, MN who realized that her properties were among the few that accepted Pit Bull Type Dogs. After she removed breed and weight restrictions in her properties, she adopted her first Pit Bull Type dog named Tate (left) and later Persia (right). Through her passion to promote inclusive pet policies – a campaign to end housing and insurance discrimination was started. Through a team of volunteers in Minneapolis and around the country, bumper stickers were shared and displayed by supporters. This campaign lead the volunteers to create a housing database of rentals that accept Pit Bull Type Dogs.
Website: https://www.mypitbullisfamily.org/
Post We Love:
7: Pitbull Tribe
And this is Oso, my handsome xl American bully😍
On this blog, I write about bully type breeds like the American pitbull, Staffordshire terrier and American Bully.
My articles are reviewed by a vet, but they **do not constitute veterinary advice**
Website: https://pitbulltribe.com/
Post We Love:
8: My Pitbull Friend
My Mission is to help fight the stereotypes of the Pit Bull breeds and fight against BSL. Too many times do we see helpless Pit Bulls dying because of the misconception that ALL Pit Bulls are vicious. I know first hand how amazing Pit Bulls truly are and want to show others. Please help us fight for these dogs and help them find loving homes by educating those around you about their qualities and that their downfalls are based on the way they are brought up, not by the breed itself. Pit Bulls make wonderful companions and are very intelligent thus easy to train. If you put time and effort into your Pit Bull you will reap the greatest benefits, a smart, loyal dog that listens to your commands and has a calm affectionate demeanor. Now who wouldn't want that?
Website: http://www.mypitbullfriend.com/
Post We Love:
9: Loyal Pitbull Love
A warm home for you and your pit bull – dedicated to pit bull advocacy, education and awareness
Website: https://www.loyalpitbulllove.com/
Post We Love:
10: Pitbull Dog
Not really a blog per se but a forum to discuss all things about Pitbull. Topics about pit bull dogs and puppies ranging from health and training, products and services to rescue and the history of pit bulls.
Website: https://www.pitbull-dog.com/
Post We Love:
Ryan is a service dog puppy raiser/trainer and founder of The Pit Bull Center, a dedicated Pitbull blog that has been visited by tens of millions of people since its inception.