12 Pitbull Halloween Costumes Ideas To Try 2023
What are some adorable pitbull halloween costumes to dress up your Pittie in?
There are two things that make Halloween the ultimate festivity.
Sure, it's not like Thanksgiving or Christmas which promote family tradition and are more relative-friendly, but All Hallow's Eve is great because it is inclusive and also the perfect event you need to properly kick off the holiday season.
Nothing gets you in the mood for Christmas like Halloween.
Just think about it, it's a chill October 31st and you're not working. You're kicking back, relaxing and doing some fun activities with your family, friends, or loved one (s) like decorating your house and getting together candy for trick or treaters.
To really get the festivities in, you could also do some not-so traditional things like carving pumpkins together, host game night, put together a family fashion show, decorate halloween themed snacks, make smores, host a wine and candy tasting party, read scary novels, binge watch scary movies, make a castle out of pumpkins, go apple bobbing.
However, while these all sound great, we mustn't forget the most important part of Halloween, which is the part where you get to dress up as your favorite public figure, movie or book character all day. And the best part is, you could dress up your pittie for halloween too.
In this article we'll show you some really cool pitbull halloween costumes you could dress your best friend in to make them feel included in all the family games and activities you'll be doing.
Picking The Perfect Pitbull Halloween Costumes
Dogs are naturally enthusiastic and clumsy, but they are pretty entertaining and never fail to bring a smile to our faces. Now, imagine putting your dog in a halloween costume, they won't just lighten up the mood, but they would also look very cute.
After perusing on Instagram, we've discovered that Pitbulls in costumes provide instant entertainment, especially because of their goofy, squishy faces, which show skepticism and confusion in the sweetest way when they have been dressed up. For humans who have a soft spot for Pitties, we have gathered some of the cutest photographs of Pitties dressed up for Halloween for your view pleasure and of course for educational purposes.
Since you love dressing up your Pup as much as you enjoy putting together a look for this season, our wholesome selection of customers will delight you. Some cute ideas we came across include – An Oompa Loompa inspired costume, Harry Potter for the Hogwarts fans, the Incredible Hulk for those who love the avengers, Dustin from Stranger Things, the cast of Schitt's creek, and of course Steve Jobs.
Halloween is a few days away, so you might want to get your planning started. So, without wasting any more time, here are 12 pitbull halloween costumes that will definitely melt your heart.
12 Pitbull Halloween Costumes That Will Definitely Melt Your Heart.
1. Harry Potter
For this year's Halloween, your Pittie can wear the most magical costume, inspired by none other than Hogwarts' favorite young wizard and Legend, Harry Potter.
Additionally, as a Potter-head and loyal fan, you and your Pup can show your love for Hogwarts by dressing them up in a costume that looks like it came out straight from the wizarding world. You can put together your preferred character ensemble by buying accessories for your dog like capes, ties, glasses, wands, and scarves.
Feel free to play around with the several houses at Hogwarts like Slytherin, Hufflepuff, Ravenclaw, or Gryffindor which is everyone's favorite.
2. Steve Jobs
This Steve Jobs costume is adorable and will be the perfect cloth for your little genius who follows commands well to wear for Halloween this year.
Think about it, Pitbulls are known to be obedient and eager to impress you by doing exactly what you need them to do, and doing it well.
By buying them this costume you're telling the society that your dog is a smart good boy who deserves to be dressed up as one of the world's most intelligent men.
3. Hulk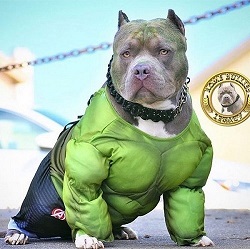 Nothing says you love the Avengers more, like dressing your Pittie in a Hulk costume for Halloween. This costume is a muscle-padded jumpsuit that'll instantly transform your dog into this beloved Marvel Character.
Another good thing about the Hulk costume is that you can match with your furry friend by dressing up as another Avenger, like Black Widow or Thor who are known to be close friends of Bruce Banner.
4. Cookie Monster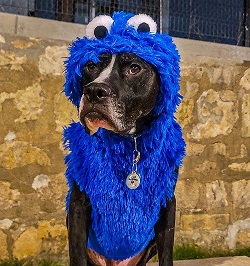 This Cookie Monster costume is the cutest thing you'll ever see. It is sure to be an instant hit and your Pit Bull will definitely grab the attention of people as it struts down the street during Halloween wearing it.
Your dog won't mind wearing this costume when you take it out for the day, because they'll receive lots of compliments and pets too. Dressing up as this beloved character from Sesame street might make them the best dressed Pup at gatherings.
5. Oompa Loompa
The Oompa Loompa costume pays homage to the classic movie, Charlie and the Chocolate Factory. It is the ultimate costume for your little Pittie to wear as they make their way up the chocolate river on Halloween.
Suit them up in this, as they run around the whole day while you pass them treats. You could also match outfits with your dog by dressing up as Willy Wonka.
6. Dustin
Stranger Things trended on social media for weeks after its 4th season was released. It was all fans of this show could talk about, as they once again expressed their love for the show that stole the hearts of millions all over the world.
One way you can surely draw attention to your Pit Bull is by dressing them up as one of the most beloved characters in Stranger Things, Dustin Henderson.
Dustin has a more outgoing personality than the other characters in Stranger Things, and this costume no doubt will match your Pitties playfulness.
7. Moira Rose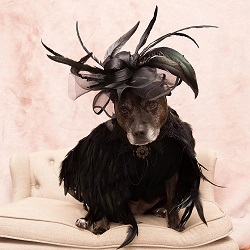 If your female Pittie is sassy, fashionable, and a bit of a diva then you can dress her up as Moira Rose from Schitt's Creek. Your Pup's funny and big personality will match Moira's energy enabling her to embody the character on Halloween.
Your Pup will look Hollywood ready as they show off their clothes like a superstar, and everyone will agree that they were made for the big screen.
8. Golden State Warriors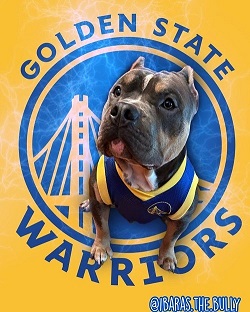 Allow your Pup to share in your enthusiasm and support for basketball by dressing them up as members of the NBA's Golden State Warriors for halloween.
You can pick from any of the Warriors star players like Stephen Curry, Draymond Green, or Clay Thompson, to customize your Pitbull's jersey to.
9. Princess Leia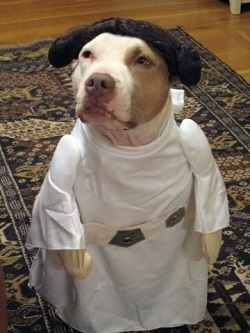 Here's something for Star Wars fans… Princess Leia Organa. Leia was among the Rebel Alliance's greatest leaders, fearless in battle, and committed to ending the Empire's tyranny.
This pitbull Halloween costume is great for them because it matches the strength and resilience of your brave Pittie that has fought many odds in their life. Also because Pitties descended from fighters.
10. Raphael From Teenage Mutant Turtles
If you're looking for a unique pitbull halloween costume idea, you could turn your doggo into the sarcastic Raphael from the Teenage Mutant Ninja Turtles.
Your Pittie can join in on the fun, wearing this signature Green and brown ensemble, complete with a red bandana, which everyone will love seeing them wear. You could also kick things up a notch by getting a shell to go with the outfit,that way your dog can really win halloween.
11. Ghost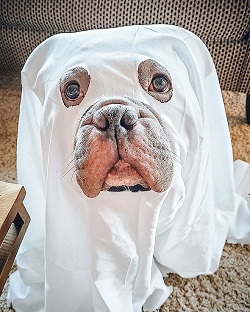 If you Pit Bull wants to get in on the action at Halloween, you can go for a more traditional look by dressing them up as a ghost. We mean, Halloween is supposed to be spooky and ridden with unearthly characters, right? So, your Pittie will match with the theme.
This costume is pretty easy, just cut holes into a white sheet and put it over your furry friend. Voila! your dog is ready for trick or treating and spooking unsuspecting people.
Don't forget to decorate the sheet with bat, zombie, and vampire stickers if you do not want the sheet to be plain white and boring.
12. Cowboy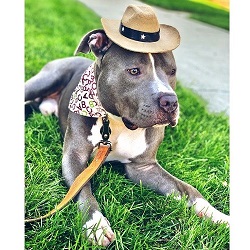 You can encourage your Pup's wild side by putting them in a Cowboy Halloween costume. Just buy a cowboy hat that fits your dog, a flannel shirt, a pair of pants, and a bandana.
With these things you can make your Pit Bull the most dapper looking dog in the neighborhood for Halloween.
Conclusion
For Halloween fanatics who are dog lovers, you don't have to wait too long to find a costume for your Pitbull.
While last minute DIY outfits can save the day for your Pittie, it is better to include this at the top of your to-do list as you do your decorations. That way you can find something silly, scary, or adorable that'll make them the best dressed pet on Halloween.
Ryan is a service dog puppy raiser/trainer and founder of The Pit Bull Center, a dedicated Pitbull blog that has been visited by tens of millions of people since its inception.